Ansen Suites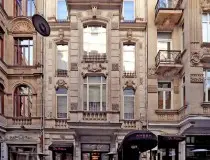 It is my first real experience in the hospitality business, and being a project of Life Co., it was really cool.
I managed the hotel for four years, while also helping out managing Life Co.'s Bodrum Detox center for a few months on the side. During my time with Life Co., focused on a healthy and natural lifestyle, I also advised and supervised the same group's raw food concept restaurant venture nearby, in the Tunel district.
After four years with Ansen Suites and Life Co., I had gained valuable experience in the hospitality sector and the natural and healthy lifestyle.